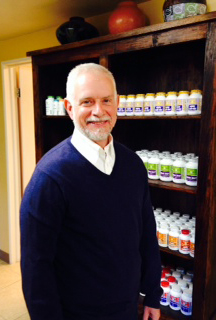 A native of Chicago, Dr. Cabin graduated from the University of Illinois Medical School in 1979. He began his career in pediatrics, completing an internship and residency at Baylor College of Medicine in Houston.
Dr. Cabin practiced for two years at the Tucson Clinic, and because both parents and grandparents of his pediatric patients wanted him to be their doctor, he completed a two-year fellowship in Preventive Medicine in the Department of Family Medicine at the University of Arizona in Tucson. During that time, Dr. Cabin completed the course work for a Masters in Public Health prior to an established degree program. He also sought out and worked with pioneers in alternative medicine , such as, Robert Fulford, D.O. – the world-renown authority on cranial sacral therapy and homeopathy; Rose Tennant, M.D. – Autogenic stress reduction therapy; Ted Randolph, M.D. – the father of Environmental Medicine and food allergies; Margaret Ayers – who developed EEG neurofeedback, to name a few. His Preventive Medicine fellowship included two years of nutritional studies, which culminated in research and teaching nutrition in Egypt.
Dr. Cabin has an integrative medical practice from a holistic perspective with an emphasis on nutrition, herbal medicine, advanced European homeopathy including neural and prolozone therapy and cranial sacral manipulation. His homeopathy education included course work with Ted Rowe, M.D. , and seminars with Dietrich Klinghardt, M.D., Ph.D. in neural therapy and homeopathy. He completed ozone and prolozone therapy courses with the founder of prolozone, Frank Schallenberger, M.D.